Now I know Snooki has lost weight, but she has also got a great make up artist. Although I am not sure who it is... my research came up null.The shading and highlighting is amazing. It actually makes her a little classier... if possible ;) Don'tcha think?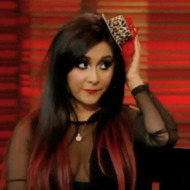 Well.,what is my obsession with Miss Snooki, you ask? I am going to be her for our neighborhood cosume party. I know not very nice, although if someone wanted to be me for their costume party, I would be flattered.
Anywhooo... I started practicing my make up and soon realized I had to leave the house and go do some business... so I had to make me look like I live in Utah not Jersey. Then I got Pinspired.
Source is Pinterest. Please excuse the brazier, I did not mean to make the men sin.
So, I worked my magic and this is what I got.
What? You can't see it very well? That's because I have a 10 year old for a photographer and he likes to tease!! Hence the awesome face I am pulling!
For real though. Here are few shots. I am thinking about building my portfolio and using this little talent of mine for good. Like ... I don't know? Where does God use makeup artists besides on a corny Christian movie? Maybe I could eventually be a guest poster on
Jamie The Very Worst Missionar
y. I could be part of her Missionary Style series... You now how a Make Up Artist/ Hair Dresser/ Stylist does it. Just some random thoughts.
For now Hair and Make up are a very fun creative outlet. Thanks to those who let me practice on them :)
Oh Natural
Flawless Foundation
A little Back Combing with Googly Eye
Give me some Fishtail
Self Photography rules!!
So, what do you think? Should I stick to my day job?